For two days a week, I looked after a two-year old. This has been a mixture of pure delight and boundless frustration, bookended by starting to sleep through at the start of the year, and starting to use the toilet at the end of it.
Large bears seen 100
On the Big Sleuth, summer of 2017
Theatre trips 3
Elmer (Mac), Sarah & Duck (Mac), and the Gruffalo (Lowry)
Transport modes 10
Feet, buggy, sling/ shoulders/ others' feet, bus, train, tram, boat, car, scooter, bike
Int'l coverage 1
A friend on holiday in Hungary spotted a photo of her at the Lapworth in the Guardian newspaper.
Dinosaurs
We visited the Lapworth Museum allosaurus in February, and her photo was taken there and ended up in the Guardian illustrating the museum of the year shortlist.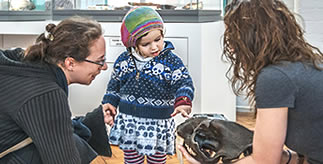 Plus in May the Botanical Gardens were invaded!
2yo: Thank you!
Me: You're welcome.
2yo: You're welcome.
Me: You're welcome
…
2yo: And *you're* welcome
Me: And you're welcome
2yo: And you're daddy.
INT. KITCHEN.
2yo eating yoghurt.
Me reading SFX.
2yo: Where's Batman?
Me: I'll find a picture.
2yo: He eats all the tiny pink blobs.
Me: … That's Pacman.
The Big Sleuth
Over the summer, we travelled all over Birmingham and the wider region to locate the 100 bears that had appeared.
From Solihull to Sutton, Bournville to Bearwood, it gave us something to do and took us places neither of us had been to before.
Pretending to ride a tractor at Sandwell Valley, seeing the fountain at the NEC, wandering round Warley Woods, ...
2yo: Knock knock.
Me: Who's there?
2yo: Door.
Me: Door who?
2yo: Knock knock.
Me: Who's there?
2yo: Robot.
Me: Robot who?
2yo: Knock knock
2yo: "Mine a happy smiley face! What does your sticker say?"
Me: "'Great'."
2yo: "Like mummy and daddy do the cheese?"
Me: "Sure."
2yo: We mustn't put the scooter in the road.
Me: Uh-huh.
2yo: There are cars in the road.
Me: Uh-huh.
2yo: The cars might take my scooter.