2019 in review
I read Phil's and Alice's, and I do look back on the 2017 review I somehow had time to do back then, so here is my summary of 2019.
Home and away
A big year, as years go, in that my partner finished her PhD after 12 years, my daughter started school, and I got a new (Windows) laptop after 8 years of my MacBook Air. We went on holiday to Chirk Castle at Easter, and Hadrian's Wall and Helmsley over the summer.
Amongst all the things of parenting that have not gone well, one aspect that somehow went right in from an early age is that she knows, and always has done, to stop at the side of a road. This has led to some fun times where she has run off towards a road with me not caring, and some other parent has dived for her because they think she won't stop. Anyway, I have had few moments of terror in that area – probably the closest was when I forgot to put the brake on the pram and it rolled into the road with her in it (in an empty cul de sac, luckily!). That is, until the Pontcysyllte Aqueduct. We had booked a boat across, pictured here, but had some time before it set off so walked down to see it close up. It was only after she and I had started to make our way out across the path over the bridge, that I realised the gaps between the fence poles were somewhat larger than she was, and it was a bit windy... I got us off there pretty sharpish; the Chirk Aquaduct has netting along its fence, I recommend that one to walk across instead.
We also got some new artwork for the house which cheers me up no end:
On another parenting note, I continue to get annoyed by the gendering of things. For those who cannot see the picture, it is in a section of Marks and Spencer, labelled Boys, with a rack of T-shirts consisting of pictures of Paw Patrol, Thomas the Tank Engine, Spiderman, the Gruffalo, the three-eyed aliens from Toy Story, and Paddington. Without exception, my daughter likes all of those things. At the time, it didn't matter, but now she is learning to read, what do I say? (Rhetorical question, I say this shop is rubbish and we won't go back.) How do you square the opinion that children can do and like whatever they want, with that given in e.g. the first minute of this What is gender? video which seems to say that if someone born female likes some boy things, then maybe they're a boy, or at least not a girl. Aren't they just a girl who likes things stereotypically liked by boys (not that that even applies to the Gruffalo!)? Reducing gender identity to "challenging stereotypes" doesn't help anyone, and shops shouldn't label kids T-shirts as boys or girls, it's just wrong.
Music
One thing I had decided to do in 2019 was go to more concerts. THSH have introduced mystery seats for some concerts, where you pay a cheap price but do not know where you will be sat. Given I'm happy with the back row of the gods as Symphony Hall is so good, this is a good deal! This basically meant I booked one concert a month from January to June (two in May), but then didn't book any for the second half of the year. I enjoyed them all at the time, but only remember snippets – Cantus Arcticus, Mahler 2, Dvorak's Wind Serenade.
I made it to a few other concerts too – the Aurora Orchestra playing whole symphony from memory, plus a memorable new Max Richter piece. Sheku Kanneh-Mason the day before his Prom, playing the same music. The Bach Choir Music for Passiontide was lovely. And I did go and see Brahms 3 last month, because our orchestra is doing that next month, so I thought I might get some tips...
In terms of performance, I had the usual two orchestra concerts – Peer Gynt, Brahms Double, Dvorak 8; and a dance programme including Danse Macabre, Polovtsian Dances, Swan Lake, Spartacus – plus a playday of the Saint-Seans Organ Symphony, which was great fun.
With choir, as well as Spectacular Classics, Messiah, and Christmas concert, we performed the St John Passion in April, Carmina Burana in May in the Royal Festival Hall, Mass in Blue and Freedom in Novemeber, and finished the year with Beethoven 9. I also played in a string quartet in Enchant's Christmas concert at St Hilda's, which had some lovely arrangements.
Lastly, at our work retreat this year I gave a lightning talk about Bach harmony.
Work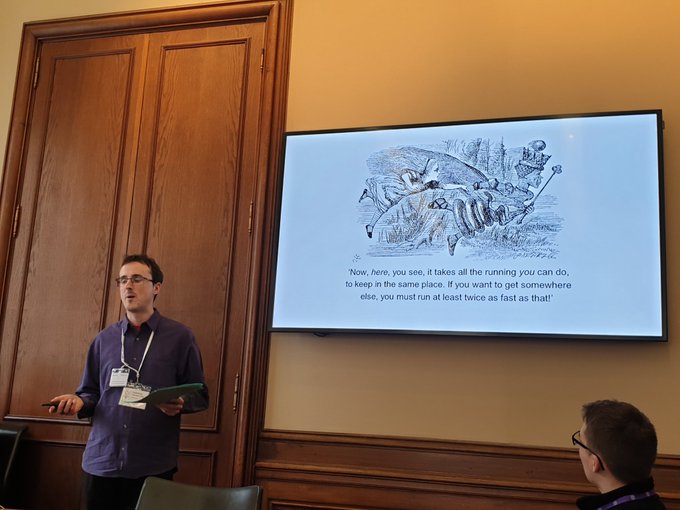 This year was mostly FixMyStreet (Pro) this year, including new bodies such as Bexley, Westminster, and TfL, plus much maintenance and improvement work, from user roles and heatmaps to discovering two times I had used JavaScript for a solution that then turned out to be better done server-side with progressive enhancement. I know!
I also helped out at TICTeC in Paris and gave a talk about long-running projects and maintenance, through the medium of Alice in Wonderland. Think it went okay, seemed to be well-received.
I made 37 fully justified commits over the year, about the same as the year before.
Visits
I attended the Maintenance Festival in Liverpool in September, which was fascinating in many different ways, good to hear all sorts of stories around such a diverse theme.
While on my way to there, I stopped off in Manchester to see &Juliet, the Max Martin jukebox musical sequel to Romeo and Juliet where Juliet did not die but goes off to make a new life for herself. This was most enjoyable. I also saw Zog at Easter at Birmingham Town Hall, and Daniel Kitson performing Keep at BAC in January.
Baddesley Clinton by public transport is eminently doable, though the National Trust website is geared towards car drivers. You catch the train to Lapworth, then walk along the Heart of England Way to the property. Annoyingly you have to walk to the far end to gain access via the front gate. On the way home, sure, driving would have been quicker, but this way we just happened to be at the station when the Shakespeare Express came through!
Dessert shops are springing up all over the place, and I am not complaining. Our closest is the Little Dessert Shop in Kings Heath, where the desserts are not little.
Media
Some books I have enjoyed this year include: How you lose the time war, To be taught if fortunate, Darkdawn, Muse of nightmares, Deathless, Railsea, Children of Time, and Seashaken Houses. It was also great to find a character named after me in Jessie Burton's new book, The Confession.
We've had a monthly board games evening, which has been fun. At this year's Expo, we bought Pastiche, Kodama, Blue Lagoon, and Santorini, all good, plus I got Arboretum for my birthday. When visiting my sister, we've played games such as Wingspan, Flamme Rouge, Quacks of Quedlingberg, and Piepmatz.
I don't know when everyone else watches TV, but all I've managed to see last year was Discovery, The Good Place, His Dark Materials, and Countryfile. That was enough.
Looking ahead
Concerts in February, March, and May; plus I am off to Prague by train in April to sing with choir – staying over in Hannover on the way out and Nuremberg on the way back. Then in July another family holiday, this time in Wales. Other than that, I hope and assume work will continue, school will continue, and The Good Place will come to an end. I hear it's quite good, you should check it out.