Cross-border postcodes
The latest release of the ONS UPRN Directory (which maps UPRNs – Unique Property Reference Numbers – to a range of administrative, electoral, health and other area geographies), also includes the postcode for each UPRN.
This means for the first time as open data we can work out (sort of) which postcodes are split across councils, constituencies, and so on. I say sort of because the data includes postcodes for non-addressable UPRNs, such as streets, which can distort the data slightly and produce some false positives. We also, without address information for those UPRNs, cannot do much to help someone who does not know their council but does know their address, and is pretty unlikely to know their UPRN.
But anyway, it is still useful for my local lockdown lookup, as it means I can provide better information on split postcodes; something that the official site (even with free access to the non-open data under the Public Sector Mapping Agreement) does not do. For example, M19 1TF crosses the Manchester/Stockport council boundary; the official site only says Stockport, whereas mine gives both the Manchester and Stockport results (which was important when they were in different tiers).
About 40 of the split postcodes I generated for my site (only concerned with council boundaries) split across the England/Scotland border. Most of these are clearly wholly in England or Scotland, so I made a manual override file to provide the correct result in those locations.
One postcode in this set, DG14 0RU, actually split across two Scottish councils, rather than across the border, with properties in both Borders (Longrow and Liddelbank) and Dumfries & Galloway (Bankhead):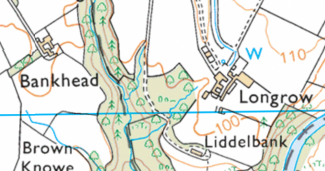 There were only three postcodes that appear to cover properties in both England and Scotland. They are:
TD9 0TU. There are two addresses in this postcode, Scotch Kershope and English Kershope, either side of the border, though not sure it's particularly easy for the postie to get between them.

TD15 1UY. Edrington Mill, Castle Farm and a couple of others are over the border in Scotland, but presumably keep the Low Cocklaw postcode as their access road is from the English side. More details about Edrington

And lastly, TD15 1UZ. Edrington Mains and High Cocklaw (and Kirkhill inbetween) share a postcode, either side of the border.
When I have time, I should do the same for the Welsh/English border, but it looks like there are quite a few more there!